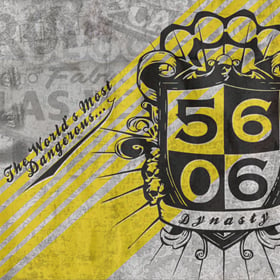 $

5.00 - On Sale
Its been called by many the "Chinese Democracy" of bay area pop punk (referencing, of course, the decade long release time of Guns N Roses last album). 5606's "The Worlds Most Dangerous" could quite possibly be one of the most anticipated CDs from an unsigned Punk/Pop band from California this year. A must own for punk/pop/rock fans, pick up your copy now and watch it deliver the goods!
Presale purchasers will receive their SIGNED copy in early August, 2-3 full weeks before the actual release date, as a thank you from the band for the love and support.
Update: Limited stock remaining, get your copy today!
Track Listing:
1. Pierce Inc.
2. You Make Me Wanna
3. I Got Friends ( Les Duex)
4. Haywood
5. Shes Got the Whole World in Her Hands
6. Outside Your Window
7. Trainwrecker